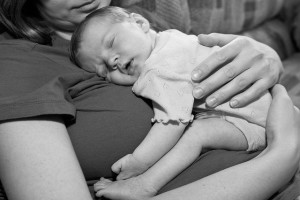 Some of the biggest concerns new parents have about their baby revolve around sleep.
Will I get enough sleep?
How will I cope with sleep deprivation?
When will my baby sleep through the night?
Most new parents accept that having a small baby means frequent night wakings, a crying baby through the night, and chugging back coffee just to get through the day. They expect the Hollywood version of endless tears (both parents and baby!) and dark purple bags under their eyes. They believe that having a new baby means they might never sleep again.
But what if it didn't have to?
There is a magic fairy who can come and make your nights easier. She arrives around 10 or 11 pm, and she stays through the night. If you are breastfeeding, she sits with you while you feed the baby, then she sends you off to your warm bed while she burps, changes and soothes your little one back to sleep. If you are bottle feeding, she will feed your baby as well, while you sleep.
She might doze when the baby sleeps, but she might also fold that basket of laundry that is sitting on the floor. She might quickly tidy up the living room, and load any dirty dishes into the dishwasher. And if you show her where everything is, she might even put the coffee on before she leaves in the morning.
Studies have shown that sleep deprivation is a contributing factor to postpartum mood disorders. Sleep deprivation can also reduce breastmilk production and interfere with bonding.
Let Toronto Family Doulas help you get a good night sleep. Email us today at hello@torontofamilydoulas.comto arrange for your overnight postpartum doula today!
Image by Pawel Loj under Creative Commons Licensing.