Let's Go To The EX! 5 Tips for Going With Children
The Canadian National Exhibition is a tradition in Toronto. Rides, games, exciting shows, things to buy, and of course, the wildest assortment of food you can dream up. Every year, people from all over flock to the EX as a last hurrah at the end of the summer.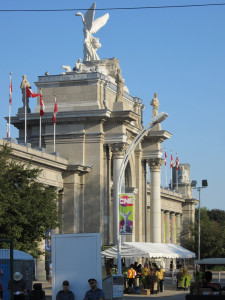 Navigating the CNE with young children can feel like a daunting task, but that is no reason to skip out on the festivities! Here are our top five tips for going to the EX when you are bringing little ones.
1. Know where the baby care stations are
This may seem obvious but it is easy to get turned around in a crowd. Make sure you grab a map (or two) when you arrive and take a moment to locate all the baby care centres.
2. Dress yourself and your children appropriately
While the rule of thumb is to dress infants in one more layer than you, 40C is still 40C. A light muslin blanket is an extra layer and has the benefit of protecting your baby from the sun.
3. Stroller or Carrier, you know best
There are pros and cons to both methods of taking your children around so it is best to consider what works for your family. Carriers may cause the parent to overheat, but are more manoeuvrable in a crowd. The stroller helps everyone stay more comfortable, especially if your baby falls asleep, but takes up a lot of space in a busy place.
4. Take pictures of your children when you arrive
In the unlikely event that you are separated from your child, having a picture which shows what they are wearing that day can be incredibly helpful to the staff and officers who will be looking for your little one. Having a day-of picture on your phone makes it much easier to distribute the information to those who need it.
5. Have fun!
The CNE is a chance to try wacky foods, watch exciting live shows, and celebrate the end of summer. Don't forget that, in all the planning of going with children, this is meant to be fun. So eat the sushi burritos and blueberry milkshake and enjoy yourself!