Ten Questions for Your Placenta Encapsulator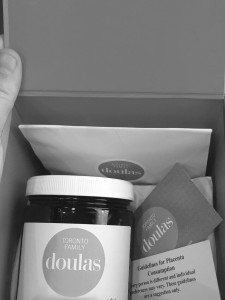 Encapsulating your placenta? Ew! Right? Well, for many people, it isn't gross at all, it's something they feel a strong desire to do after having a baby. The anecdotal benefits to consuming your placenta are numerous, but remember, it is still an organ and there are safety considerations to be aware of. Your can read our questions for Birth Doula and Postpartum Doulas first. Here are the questions we think you should be asking your placenta encapsulator:
1. Are you trained? Who did you train with?
Not all trainings are created equally. Some placenta encapsulation trainings are in person, others are online, and a rare few teach themselves by watching videos and have not gone through a training program at all. Make sure your encapsulator is trained through a properly vetted program. Take note of the organization they trained with and look them up. Are they reputable? Do they have stringent safety requirements? You should also enquire if your encapsulator is certified or becoming certified.
2. Do you carry insurance?
Just as other professionals carry liability insurance, your placenta encapsulator should as well. It is only possible if you have taken a training on an approved list, so this is further assurance that your encapsulator is qualified to be processing your placenta.
3. Have you taken a Blood Borne Pathogens training?
Blood borne pathogens are illnesses that are transmitted through the blood. Hepatitis and HIV are well known blood borne pathogens. All encapsulators should have this training to keep you, and themselves, safe.
4. Where will you encapsulate my placenta?
There are two common options for where the placenta will be processed; in your home or in the encapsulators home. Your home is the safest place. The placenta will never leave your possession and you can see everything that is being done throughout the process. It also means that the pets, children, and day-to-day activities of your encapsulator cannot interfere with the processing of your placenta.
5. How do I know the capsules are made from my placenta?
This question is only important if your placenta is not being processed in your home. No matter how safe or careful an encapsulator is, as soon as they take possession of a placenta, there is a chance of a mistake.
6. What method do you use to prepare the placenta and why?
There are many different ways to process a placenta for encapsulation. Your encapsulator should be able to discuss the risks and benefits of each one, and explain why they use the method they use.
7. Will the hospital release my placenta?
This is always a question you should ask your care provider. However, your encapsulator should know which hospitals are prepared to release placentas, which have rules around the release, and which will be more difficult.
8. Would anything prevent you from encapsulating my placenta?
There are certain situations which arise during pregnancy or during birth that may prevent you from encapsulating your placenta. These are most often related to specific types of infection which would make the placenta unsafe to consume. In those situations, the hospital might send your placenta to pathology for testing. Once it has gone to pathology it is no longer safe to encapsulate.
9. What happens if my placenta goes to pathology?
While rare, it does happen that someone cannot bring their placenta home. You should know the policies of your encapsulator if that happens.
10. What happens if I have problems after?
You should always be able to reach your encapsulator to ask questions. Questions can include side effects, how many capsules to take, or resources and other professionals in your community.