…Or at least, when breast isn't easy! Some of the most common questions a doula encounters are about breastfeeding. New mothers often ask "how do I breastfeed?", and "how do I know if I have enough milk?" We are bombarded with messages and imagery about breastfeeding and the slogan "breast is best" and that breastfeeding is the natural way to feed our babies. But that doesn't make breastfeeding easy.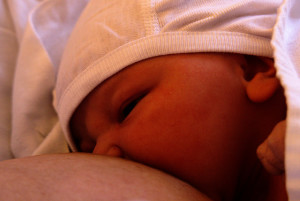 Breastfeeding is a new skill, for you and baby! Even if this isn't your first child, your breastfeeding journey will be unique each time. You may know what a good latch feels like, or what positions to try, but your baby won't. We sometimes talk about he learning curve of breastfeeding, and that's where a doula can help.
Doulas are trained to offer first level support with breastfeeding. That means that, after birth, we are there to help with first latch, which can help get breastfeeding off to a healthy start. We are there in the early postpartum weeks to troubleshoot any problems you have, or let you know when it's time to see someone who specializes in breastfeeding. We can then help you connect to an IBCLC who is able to support more complicated challenges.
At Toronto Family Doulas, we believe passionately in supporting your breastfeeding goals, whatever they may be.
Image courtesy of Stefan Malmesjo under Creative Commons Licensing