Bundling Up The Bump – Winter Maternity Style
Brrrrrr, the cold weather is coming and it is time to bundle up that bump. It can be hard to know what you will need for a winter pregnancy, especially if you are due during the winter season. Many of the staples you will add to you maternity wardrobe will be useful after your baby arrives, especially if you are intentional about what you purchase.
During pregnancy it is common for your body temperature to fluctuate. Many people find they "run hot" during pregnancy. Layering is crucial to being comfortable during a winter pregnancy.
Here are our suggestions for your must-haves.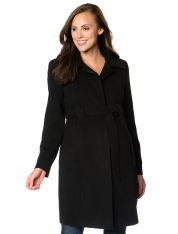 This coat from Motherhood Maternity  is warm enough to get you through most days, unless you spend much of your time outside. Even if you are expecting your baby in the early days of the cold weather, a maternity coat is a good idea. Your body may take time to go back to it's pre-pregnancy size and having a comfortable coat is important.
From outerwear to intimates! Maternity hose will extend the life of your  summer maternity garments and allow you wear your skirts and dresses longer.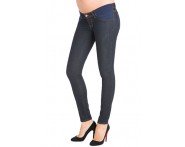 A great pair of jeans is a must have during every pregnancy, but especially during the colder seasons. Everyone has their own preference for under- or over-belly jeans, so make sure you try different styles. We love these JBrand leggings from Seven Women.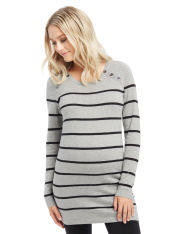 A tunic length sweater will help keep you warm on those bitter cold days, and will cover all of you even when you can't see your toes. We love this one from Motherhood Maternity because the shoulder snaps will allow you to breastfeed in it after baby has arrived.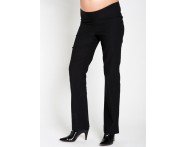 While a great pair of jeans is essential, most people cannot wear jeans every day. A pair of comfortable maternity dress pants is a staple for any wardrobe. These Noppies pants from Carry Maternity will get you through any professional engagement in comfort.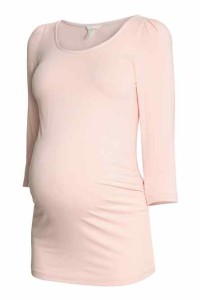 Casual comfortable tops with 3/4 sleeves are perfect for the winter season.  H&M has a fantastic selection of basic tops and tees.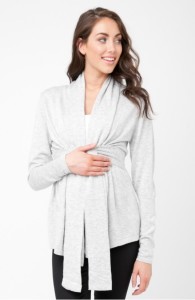 Layering is important and a comfortable maternity cardigan is versatile. This one from Carry Maternity is cute and professional!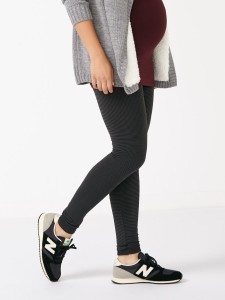 A pair of fleece lined leggings will keep you warm on those days when you just need to be cosy. These leggings from Thyme Maternity are sure to keep you warm.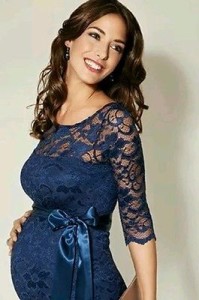 Dressing your bump through all those holiday parties can be a task. This gorgeous blue lace dress by Tiffany Rose can be found at Carry Maternity. Perfect for work parties, holiday services, and even those winter weddings.