Foodie Friday: Quinoa Fried Rice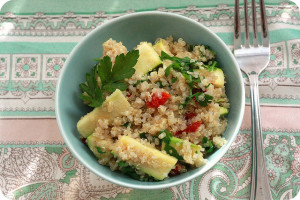 I love Chinese food, just like the author of this recipe. Fried rice is one of my favourite foods, and I always order two containers and eat the leftovers for lunch. But I'm always looking for ways to make my diet healthier and this seems like the perfect compromise! Less fat, customizable, and a healthy dose of protein? Sign me up!
INGREDIENTS
2 Cups of Cooked Day Old Quinoa*
½ Teaspoon of minced Ginger
1 Medium Carrot, minced
¼ Onion, minced
½ Cup of frozen peas
2 Eggs
1 Tablespoon plus 1 teaspoon of of Sesame Oil
1 Tablespoon of Soy Sauce
INSTRUCTIONS
Scramble the 2 eggs into a bowl
Using a skillet, heat 1 teaspoon of sesame oil over medium high heat
Add the scrambled eggs and let them cook. Remove from heat and chop them in little pieces
Pour the remaining 1 tablespoon of oil over medium heat and cook the onions, carrots and ginger for 2-3 minutes
Add the cooked Quinoa and stir until combined. Add the soy sauce and mix everything together. Add the cooked eggs
Add the frozen peas and cook one minute more until the peas are heated through
Enjoy
NOTES
*To cook Quinoa simply boil 2 cups of water or stock in a pot. Add 1 cup of Quinoa, stir and place a lid. Cook on low heat for 10-15 minutes or until all the water has been absorbed.
Cool in the fridge.
The recipe can be found here.
Image by Jennifer under Creative Commons Licensing.