Has your Facebook feed been flooded with people waxing poetic about their Instapot? Have friends or family mentioned their newest kitchen gadget? Well add us to the pile because we have hopped on this cooking craze too!
Another kitchen appliance? Really?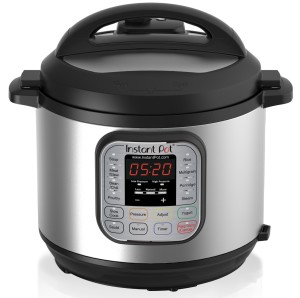 This new gadget works to reduce the number of devices you need to get dinner on the table. Better yet, it does it in a fraction of the time. The Instant Pot is most well known for it's fast, pressure-cooker, timing for cooking your dinner. It can even cook meat from frozen if you forgot to take something out for dinner. It is making it easier for working parents to get home and get a delicious dinner on the table quickly.
No need to wait for the weekends…
Craving a pot roast? It's okay that it is Tuesday night, it will be ready in 35 minutes. Not feeling your best and looking for a warm, homemade soup? It won't take more than 30 minutes to cook.
We know that whether you are in your early days of parenting when you are tired and forgetful, or your little one is in daycare and  you are back to work, rushing home at the end of the day, it can be hard to get healthy and delicious meals on the table. Children can be picky, mornings can be rushed
so you forget to take something out, and sometimes it is easier to just pick up a pizza on the way home. The Instapot makes it so much easier!
Here is one of our favourite recipes for the Instapot:
 Weeknight Homemade Chicken Soup
Perfect for those cold or wet nights when you just want to get
warm. There is something perfect about a bowl of steaming hot chicken soup. It makes you feel warm all the way down to the tips of your toes. Serve this bowl of soup with fresh bread and butter, a grilled cheese sandwich, or your favourite salad.
Rotisserie chicken or a small pre-cooked chicken (with skin removed)
6 cups of water
small chopped yellow onion
1 cup chopped carrots
1 cup chopped celery
salt and pepper to taste
1 tsp garlic powder
2 bay leaves
Add all of your ingredients to the pot. The chicken should be immersed in then water completely. Close the lid and manually set for 30 minutes. When the 30 minutes are done, open the steam valve to let the pressure out, then wait five minutes so the pressure has been released. Sift out the bones from the chicken. Add in cooked noodles if desired. Serve.
****We are not receiving any endorsement from Instapot for this post, it is just our experience and enjoyment of a product****