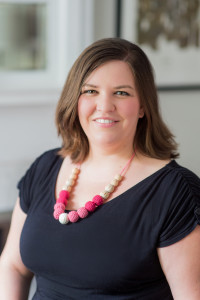 Meet Meaghan!
What do you do at Toronto Family Doulas?
I am a pre-certified Birth and Postpartum Doula. I am also a co-owner with Alex.
What brought you to doula work?
I had a doula with me at the birth of my first son and I was inspired to provide unbiased support to other families as they made the transition to parenthood. Before becoming a doula I worked with families and special needs children and becoming a doula felt like a natural extension of the whole-family care I had always provided.
When you're not doula-ing what is your favourite thing to do?
Craft! I have been crocheting since I was a young girl and three years ago while on mat leave, I taught myself how to knit. I keep saying I want to learn how to quilt too, but my craft room is already bursting at the seams with yarn, I don't know where I would store the fabric.
I also enjoy spending time with my two sons and my husband. We have seasons tickets to the Toronto Marlies and most weekends during the season can be found cheering at the hockey game.
Who is in your family?
My husbands name is Adam and I have two boys, Quinton is who 3, and Miles who was born Spring 2015. We also have a beagle named Jameson, and two cats, Caesar and Mika.
What is your favourite food?
Sushi. I love to go out for sushi and would happily eat it all the time. Cheesecake is a pretty close second though.
What is your favourite book?
I am currently re-reading the Harry Potter books. I don't think I have a favourite, whatever I am reading in that moment is my favourite, or I wouldn't be reading it!
What is your favourite movie?
Right now, it is Pitch Perfect, it appeals to my sense of humour. But I also like period pieces, Les Miserable, The Young Victoria, Woman in Gold, and The Duchess are some that I have watched (or re-watched) recently.
What is the best part about being a birth doula?
Getting phone calls at 2am! No, seriously, I actually like that part because it means I have done my job and my clients are comfortable enough to call me no matter what, regardless of the time. That level of comfort and trust is my favourite part.
What do you most love about postpartum work?
Seeing new parents gain confidence. Whether it is first time parents feeling comfortable giving baby a bath on their own, or parents with older children being ready to head off on an outing, knowing they have everything they need, or seeing them make choices for their children confidently, knowing they have the information they need or want to make that choice.
What is something we're unlikely to know about you?
I went to a theatre arts high school and was part of the musical theatre program. I continued singing, dancing and performing all the way through university too.
What education and training do you have?
I have a Bachelors Degree with Honors in History from Nipissing University and a Graduate Diploma in Advanced Studies in Special Needs from Humber College. I took my first doula training with DONA in 2013 and began my cross-certification Birth Doula training and my Post Partum Doula training with ProDoula in 2015.
If you could go anywhere in the world, where would it be and why?
It's so hard to choose! I would love to go to Australia because I have heard it is absolutely beautiful, especially for swimming. I would also love to go to Europe, especially Italy. Who doesn't love a gorgeous pair of Italian leather pumps?
What do you hope to accomplish this year?
My goal is to complete both my certifications with ProDoula this year.