New Feature and a Recipe!
There is nothing that anyone likes better than a good recipe and delicious food! Pregnancy and the postpartum period can be difficult to navigate when it comes to your diet. Nausea, heartburn, and cravings can make it difficult to eat the things that you need. The unique nutritional needs of a pregnant or breastfeeding woman can also make mealtime more difficult.
To help you out we are introducing a new weekly feature; Foodie Fridays! Every Friday we are going to have a food related blog post. Often times this will be a new recipe. We will try and have a good mix of all meals, freezer meals, crockpot recipes, vegetarian, pescatarian, omnivore and even vegan recipes. Other weeks we will talk about introducing solids to your growing baby, address specific nutritional needs, and provide you with some great foodie resources across the city!
All of the recipes we post are ones that you can ask your postpartum doula to make.
Yup, you read that right! Your postpartum doula can cook for you if you would like! In fact, she can pick up the supplies, do the meal prep, and put the meals in the freezer for you, so that you have ready made meals when you least feel like cooking!
Here is our first Foodie Friday Feature!
Everyone loves a good loaf of banana bread. Meaghan found this particular recipe when she was expecting her first and it is now her go to recipe. Feel free to add in chocolate chips, nuts, fresh or dried fruit for something a little different!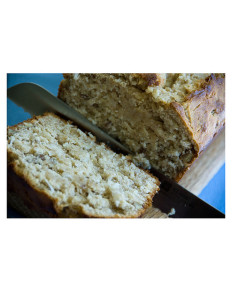 Julia's Best Banana Bread
This simple, moist banana bread can also be baked in three small (5¾x3¼") loaf pans, which is how you'll find them at Julia's stand; cooking time will be 40–50 minutes. For the deepest flavor, use ripe bananas with lots of freckles.
Ingredients
SERVINGS: 8
Nonstick vegetable oil spray
1¾ cups all-purpose flour
1½ teaspoon baking soda
¾ teaspoon kosher salt
3 large eggs
1½ cups sugar
1 cup mashed ripe bananas (about 2 large)
¾ cup vegetable oil
Preparation
Preheat oven to 350°. Coat a 9x5x3" loaf pan with nonstick spray. Whisk flour, baking soda, and salt in a medium bowl. Whisk eggs, sugar, bananas, and oil in a large bowl until smooth. Add dry ingredients to banana mixture and stir just until combined. Scrape batter into prepared pan and smooth top.
Bake until a tester inserted into the center of bread comes out clean, 60–70 minutes. Transfer to a wire rack; let bread cool in pan for 15 minutes. Run a knife around inside of pan to release the bread. Turn out onto rack and let cool completely.
The recipe can be found at Bon Appetit.
Image by Angela Schmeidel Randall, used under Creative Commons Licensing.