Product Review: Chef's Daughter Baby Food
So we have been trying out this product for a few weeks now, as you may have noticed on our Instagram. Here is our product review:
We love it!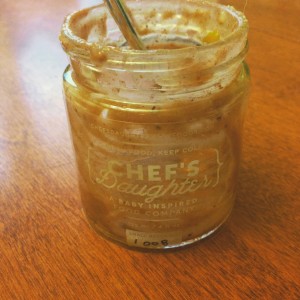 With our first, I made all my own baby food. Almost everything was made from scratch. But with two kids, two cats, a dog, and a business, I don't have time to do the same this time around! I found Chef's Daughter at The Baby Show and they instantly solved my dilemma!
Not only is my son eating wholesome, fresh, homemade food, it's delivered right to my door!
Because we use a combination of finger foods and spoon feeding, we use around 6 jars of food a week. My son's favourite is the Pumping Iron flavour! With chicken liver, egg yolks, and parsnips, this delicious combination is chock full of nutrients.
It's so much fun to see how beautiful these jars of food look as well! Gone are the small jars of brown(ish) baby food! These jars come in stunningly bright layers of yellow, green, purple, orange and more! In order to mimic real world eating, the flavours are layered instead of mixed. The different jars are all wonderfully seasoned, all the better to help your little one become used to a variety of tastes!
Best of all, a paediatric nutritionist was involved in the development of all the flavours, so you know it's good for your child!
And did I mention that it is delivered and picked up from your doorstep?
We are so looking forward to the toddler line that's been hinted at!