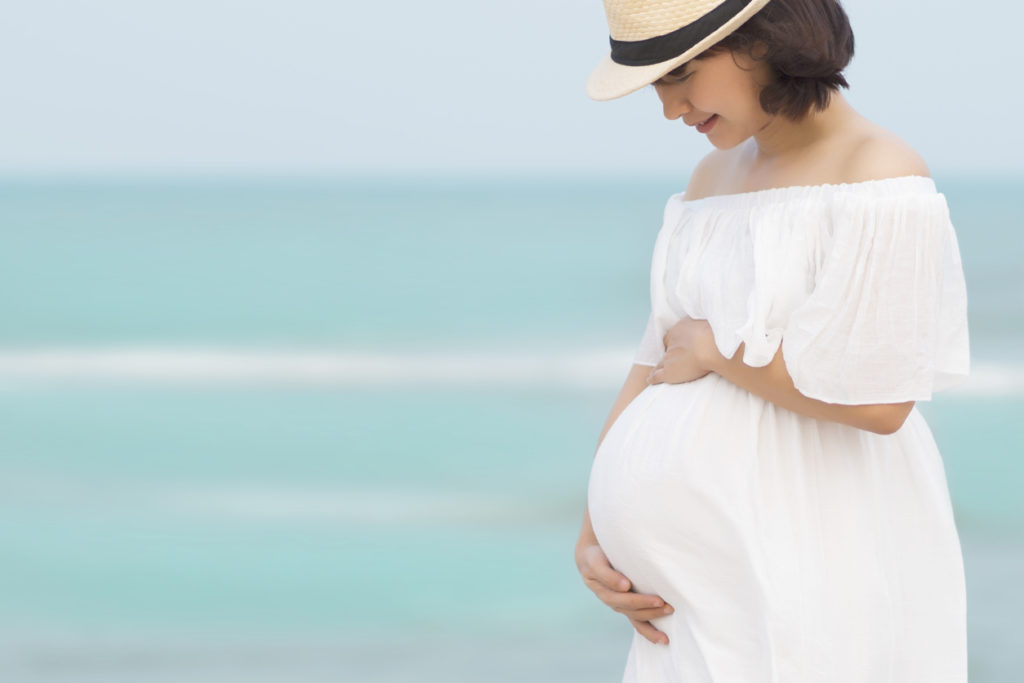 The year that was January is finally over. But it feels just a little like we've gone through the wardrobe and the one hundred years of winter still aren't over yet. February is always such a dreary and grey month. Which has us thinking about the sun and sandy beaches. And Babymoons! Because who doesn't dream about a Babymoon when it is cold and damp outside?
We have seen more and more folks head to a warmer climate (especially when they are pregnant in the winter!) for a few days or weeks before their baby is born. Taking a babymoon is definitely popular!
Owner Meaghan remembers trying to plan for her Babymoon way-back in the day. Finding a maternity swimsuit in January felt impossible.
To make sure you don't suffer the same fate of endlessly walking through the malls, we've gathered up some our favourite spring and vacation maternity fashion!
1. Swimsuits
Swimsuits can be tricky, especially if you aren't loving your changing body. The good news is that there are more options now than ever before, so finding something you feel good in shouldn't be a Herculean challenge.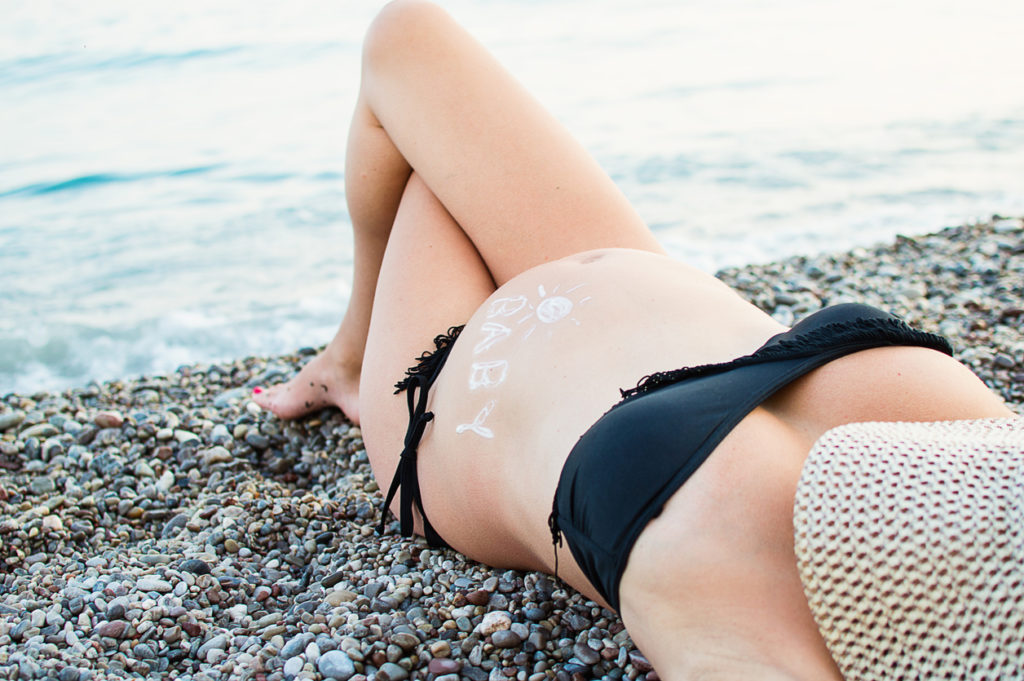 Classic is never wrong, and this black tankini with a sweetheart neckline is going to be flattering on anyone and everyone. Tankini's are particularly beneficial when you are pregnant because, as you may have noticed, your bladder is not the same as it was before. Not needed to peel off your entire swimsuit just to use the bathroom can be helpful! If that's not a worry for you and you'd prefer a one-piece, we love this one! And, of course, there is nothing stopping you from wearing your regular bikini and showing off that beautiful bump!
2. Shorts
If you are headed anywhere warm, you are going to want some shorts! With a small furnace strapped to your torso, adding more heat is probably going to leave you sweaty and uncomfortable. Not a fun vacation! We love these shorts because they are light and cool for those humid days. If denim is your preference, these under-belly shorts from Seraphine are amazing (https://www.sevenwomen.ca/collections/cruise-maternity-swimwear/products/seraphine-ollie-maternity-denim-shorts)
3. Something Pretty
Most cruises and resorts have a dress code for dinner, so a little bit of extra is required! We love this off the shoulder maxi because we'd probably wear it pregnant or not! If you are looking for something a little different, we have been in love with Carry Wrap dresses for YEARS. We love the bright and vibrant colours of this one, but if you stop by the store, you will undoubtedly find a pattern that you love too! Remember that a nice dinner while on your Babymoon is not likely the only time you will need a dress that makes you look and feel fabulous. There will be more events, like maternity pictures and baby showers that you will want a nice dress for!
4. Tops
Finding maternity tops that you like should not be too hard. It is, generally, the easiest part because there are the most options. But not all maternity clothing is created equally! We love this strappy cami because it will last your entire pregnancy and beyond. Plus it would be incredibly easy top with a cardigan or jacket for chilly evenings strolling on the beach.
Having a number of basic t-shirts and tanks can give you more options as you rotate non-maternity shrugs, crop tops, sweaters, and wraps into the mix. We often suggest that for basics like t-shirts and tank tops that you look for items that will last your pregnancy and breastfeeding journey.
5. Travelling Clothes
Okay, we'll admit it, the romper trend was not our cup of tea at first. But it has grown on us. Specifically, it has grown on us as a phenomenal travelling piece! Being pregnant means there is enough going on with your belly, who wants to add creasing or pinching elastic, stiff denim, or anything else uncomfortable when they are stuck in a place seat for a few hours? The lack of waistband or seaming on a romper makes it an incredibly comfortable item to travel in.
And last but not least, if the idea of going to multiple stores and trying things on is exhausting and you are just not interested, the Sprout Collection is a fabulous, local source for beautiful rental maternity wardrobes. Whether for a babymoon, a special event, or just to fill out your maternity wardrobe with fun and flexible options, Sprout is the place to go!
For more tips on travelling while pregnant, check here.