Our Top 10 Family Activities This Holiday Season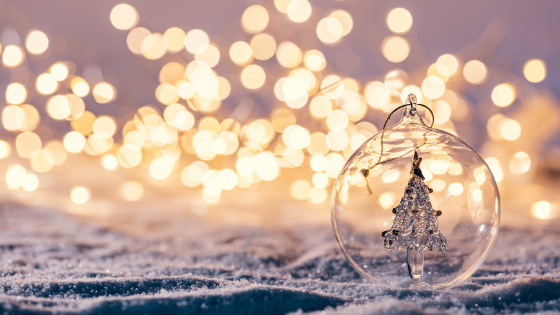 It is holiday time! Although it is halfway through December, there are still plenty of fun activities for the whole family to enjoy this holiday season. From parades, lights, rides, shopping, and more, there is something for everyone on this list.
1. Glow Gardens
Closes January 4, 2020
This event looks absolutely amazing for the entire family. For the little ones, there are light displays, Santa, an indoor playground, and even an indoor locomotive to take a ride on. For parents, there is a vendor market, hanging light picture frames for some great selfie's and family pictures, and local food and drink options. This is a ticketed event, with tickets selling fast. So make sure you buy yours soon!
2. Christmas At The Castle
Ends January 5, 2020
Most locals don't think about our tourist attractions often, but Casa Loma is a beautiful treasure, tucked away in midtown. While they hold many events throughout the year, their Christmas celebration is awash in tradition. At the castle, you will find their 40ft tall Christmas tree, special performances from the Casa Loma Holiday Orchestra, as well as treats and crafts for the kids, and Santa.
3. Kensington Market Winter Solstice Parade
December 21, 2019
Celebrate the return of longer days and warmth with the 30th anniversary of this wonderful event, the Kensington Market Solstice Parade. Lanterns will be sold prior to the event, and all of them are handmade!
4. The Toronto Zoo
Events on now until April 2020
Yes! The Toronto Zoo is open over the winter, and it can be one of the best times to go see the animals that thrive in the cold. But the Zoo is also stepping up it's winter programming every year. This year, enjoy looking for Zelf (the Zoo's Elf on a Shelf), their 12 Days of Enrichment program, 50% off admission on Boxing day, or the brand new Terra Lumina nighttime walk exhibit.
5. The Flight Of White
Now until January 31, 2020
Ready to get out of the city, even just for an afternoon? The Cambridge Butterfly Conservatory is hosting the Flight of the White – with thousands of Rice Paper butterflies flying amongst twinkling lights. Apparently, these particular butterflies are the most likely to land on people, making this a fun exhibit (and great photo opportunity) for the whole family!
6. Chanukah Family Party
December 22, 2019
Latkes, doughnuts, and a hot chocolate bar? Sounds like someplace we want to be! This party is being hosted by Chabad Lubavitch of the East Side at the Yonge Eglinton Centre and looks like a fun Chanukah party for the whole family. Enjoy live music, crafts, and dreidel games!
7. Boxing Day Classic, Toronto Marlies vs. Belleville Senators
December 26, 2019
Unlike Maple Leaf's games which can be expensive and late for little ones, the Marlies day time games are a fun way to introduce children to our national pastime. Every year on Boxing Day, the Marlies move over to Scotiabank Arena (anyone else still call it the ACC?!) and play to a much bigger audience. With an emphasis on family fun, this is a great afternoon out of the house if you have kids coming down from the excitement of the day before.
8. Winterfest at Canada's Wonderland
Now until December 31, 2019
This is a new event for Wonderland, which has never been open during the winter before. This seasonal trial has been getting amazing reviews, including this one from our friends over at Life With A Baby. Many of the children's rides are still open, so bundle up and go fly the Red Baron in the snow!
9. Rebirth of the Sun
December 21 and 22, 2019
This celebration of the solstice is presented by the Aga Khan Museum in conjunction with the Ismaili Centre, where it will be held. "This intimate presentation gives you the opportunity to experience the transformative ritual of the season's change with an eclectic group of national and international dance and music artists. "
10. The Toronto Christmas Market
Closes December 22, 2-19
The Annual Distillery District Toronto Christmas Market is a holiday highlight for many families. With vendors displaying beautiful, handmade, artisan goods, excellent food, and a happy atmosphere, there is always something for everyone. Remember that the last shopping day is December 22nd!
This is by no means an exhaustive list, and we know there are many more amazing activities, events, and places to go this holiday season. Toronto is a wonderful place to live, explore, and have fun with kids.  Let us know your favourite holiday events and hangouts by tagging us on social media!
If you are still looking for that perfect gift, look here: